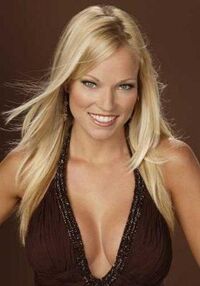 Brooke Long (born April 27, 1980 in Los Angeles, California) is an American model, actress, TV host, and former cheerleader for the San Diego Chargers, L.A. Avengers, L.A. Lakers and Miami Heat. She is also formerly known to TV Game Show audiences as Briefcase Model #15 for three season on NBC's Deal or No Deal.
An adventurous Southern California girl growing up in Chino Hills, Brooke Long is a born performer who had many talents and rather dangerous interests, ranging from sword fighting to bungee jumping, rock climbing to doing aerial work. This year she has added skydiving. But when not engaging in any of these ho-hum activities, Long loves to model, act, host, dance and sing.
Long is the host for HD network's Smashbrain TV and for co-hosting Get Out and has appeared on a variety of television shows including: The Jamie Kennedy Experiment, Entourage, Bound for Glory, Showtime Dream, Nikki, The Greg Behrendt Show and Jimmy Kimmel Live.
Brooke made to the move to the Game Show world, making her debut as Briefcase Model #15 during season two of the NBC Game Show Deal or No Deal, replacing Lanisha Cole, who returned during season three as a substitute model, and remained with the show until the show's cancellation in 2009. In season five, she will be replaced by Madi Teeuws.
In 2007, Long appeared in the film The Comebacks, where she plays one of the fantasy dancers. Long has also been in Orange County, Good Advice, Tomcats, Gigil and Little Nicky.
Besides acting, Long has graced the pages of magazines like Maxim, FHM, Muscle and Fitness, Teen, YM, M magazine, ESPN and Vegas magazine.