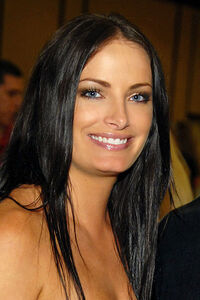 Kasie Lee Head (born April 19, 1981 in Braman, Oklahoma) is an American Model, Actress, and former Beauty Queen. She is best known to TV Game Show audiences as Briefcase Model #16 on the NBC Game Show Deal or No Deal.
Born and raised in the town of Braman, Oklahoma which has a population of only 250 people.
Kasie won the Miss Oklahoma USA 2002 title in a state pageant held in late 2001. This was her first attempt at the title. She went on to represent Oklahoma in the Miss USA 2002 pageant broadcast live from Gary, Indiana in March 2002, but did not place. The pageant was won by Shauntay Hinton of the District of Columbia.
In late 2005, Kasie landed a TV gig as she was selected to be one of the 26 Briefcase models on the newly NBC TV Game Show Deal or No Deal during it's Premiere Week (aired December 19-23, 2005). She replaced Aliké Boggan as Briefcase Model #17 after the series premiere episode.
When Deal or No Deal returned to the airwaves in February 2006 as a primetime regular, Kasie moved over to Briefcase #15 before being replaced by Lanisha Cole the following week. She then became a substitute Briefcase Model, while subbing at Briefcases 9, 19, and 20, Kasie mostly subbed for several weeks at Briefcase #13, regularly held by Leyla Milani.
She was one of two former Miss USA delegates appearing as Briefcase Models on the show, the other being Briefcase Model #1 Claudia Jordan, who was Miss Rhode Island USA 1997 and previously completed a 3 year stint as a Barker's Beauty on The Price is Right.
For the second season of Deal or No Deal, Kasie goes back to being a regular Briefcase Model, standing beside Briefcase #16 and parted ways with the show after season two drew to a close in June 2007. At the beginning of season three, Briefcase #16 was first permanently taken over by Krissy Carlson, who in turn was eventually replaced by Lisa Lakatos, midway through season three as Krissy then rotated back and forth between a Banker Model and a substitute Briefcase Model.
Aside from her game show modeling and pageant appearances, Kasie also landed small roles in movies such as The Princess Diaries 2: Royal Engagement and Just My Luck. She is signed with CESD talent agency in Beverly Hills.