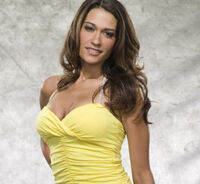 Kelly Brannigan (born September 18, 1982 in Torrance, California) is an American Model, Actress, and aspiring Singer. To Game Show audiences she is known as Briefcase Model #24 on the NBC Game Show Deal or No Deal.
Born and raised in Torrance, California, Kelly Brannigan and her sister, Sarah, lived with their father until 1993, when he tragically passed away as Kelly and her sister then moved to a small town in Upstate, New York where they lived with their uncle and his wife.
While still struggling to cope with the death of her father, Brannigan found comfort in modeling which quickly became passion, as well with cooking and singing. After college, she decided to pack her bags and moved back to the west coast, Los Angeles to give modeling a true shot. Kelly owes so much to a dear friend of her father, Bill Gow, who helped her through her transition from New York to Los Angeles, and has been extremely supportive.
Kelly also has several hidden talents, one of them is singing (and not only in the shower). She sang opera all through high school and was the leader in her class. She also enjoys cooking, another one of her many passions. Brannigan went to college for two years at Monroe C.C. and studied food service and hospitality. Realizing that cooking was more than a hobby, she enrolled in the Culinary Institute of America for Pastry Arts, but modeling called.
Her impressive modeling credentials soon landed Kelly a weekly TV gig, which was appearing as one of the 26 Briefcase Models on the NBC Game Show Deal or No Deal. She joined the show during it's second season, She first began as a substitute Briefcase Model holding Briefcase #24 for Meghan Markle before becoming the permanent model at that case and substituted Briefcase #23 for Aubrie Lemon (who substituted at Briefcase #5 for Ursula Mayes) before moving over to Briefcase #24, making it her permanent residence, officially replacing Meghan Markle in the middle of Season 2. Kelly stayed with the show all the way to the end in May 2009. In season five, she will be replaced by Kizzi Varzeshi.
In her spare time, Kelly enjoys hanging out with her boyfriend, Blake and their three dogs. She also loves to go snowboarding, camping, hiking, and surfing trips.