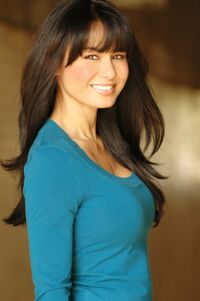 Kimberly Dawn "Kim" Estrada (born September 3, 1971 in Washington DC) is an American Model, Actress, Martial artist and was known as Briefcase Model #16 (Season One only) on the NBC Game Show Deal or No Deal
Kim Estrada (no relation to actor Erik Estrada) is an ethnic blend of primarily Chinese, Spanish and Native descent and has an extensive background in martial arts and combat including Shaolin Kempo, Jeet Kun Do Kung Fu, Jiu-jitsu, Tae Kwon Do, Kickboxing and Western Boxing. She is accomplished athlete as she became the only girl playing on her high school's boys soccer team and then played soccer for the University of Maryland, College Park at the NCAA Division 1 level. At the University of Maryland, Kim earned scholar-athlete awards, graduating cum laude with a Bachelor's degree in Criminal Justice.
Kim also proved to be a serious actress. She has been directed by Academy Award winners Clint Eastwood, Bill Condon, Oliver Stone and the Coen Brothers. She was cast and directed by Clint Eastwood in Best Picture Million Dollar Baby, as one of Hilary Swank's character's opponents.
Estrada also landed guest starring roles on various television programs which include the soap operas The Young and The Restless, All My Children, and Days of Our Lives and Primetime TV programs which include Criminal Minds, Sons of Anarchy, Castle, and Chuck.
In December 2005, Kim landed a new TV gig as she appeared as one of 26 Briefcase Models on the NBC TV Game Show Deal or No Deal, she stood beside Briefcase #16 during it's week-long Premiere Week (aired December 19-23, 2005) and remained there during it's first official full season on NBC. Kim parted ways with the show after it's first season drew to a close.
Since leaving Deal or No Deal, Kim has continued to act in movies and TV shows.
Kim was one of the participants on the GSN sport show Extreme Dodgeball.
She has expanded to working behind the camera as well and was an associate producer on the latest film by Michael Oblowitz, "The Ganzfeld Experiment".
Estrada also produced a web series called "ADVENT"', which was released in 2011.
She has several projects in development, including "Frazzled", a screenplay written by Mark Winzer, which she is producing with Maxwell Sinovoi. Other projects in development include: Effa, directed by Penny Marshall, Three Kisses, directed by Alfredo De Villa, and Snow Globe, written by Meaghan Mallon.
Additionally, Kim is developing the thriller screenplay David in a co-production with F Comme Film producers Jean-Louis Livi and Victor Livi.