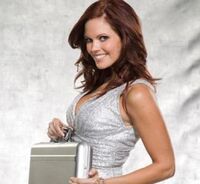 Krissy Carlson (born August 10, 1979 in Loverne, California) is an American Model, Actress and Dancer. She is known to Game Show audiences as being one of the Briefcase Models on the NBC Game Show Deal or No Deal.
A Southern, California native. Krissy Carlson is the youngest of three siblings, a sister Jenni and a brother Tim. In 1996, she graduated from St. Lucy's, an all girls school and attended Cal State Northridge for a year where she was a cheerleader for the basketball team.
Carlson also has a passion for acting. After graduating from High School and some college, her acting career was in full swing. she landed a contract role on Aaron Spelling's NBC daytime soap opera Sunset Beach playing the role of character Amy Neilson. Her role on the NBC soap led to numerous guest starring on other television shows including Buffy: The Vampire Slayer and Ellen, as well as leading roles in feature films such as Behind the Mask: The Rise of Leslie Vernon.
Aside from acting and modeling, Krissy is also a dancer, dancing for professional sports teams such as the NBA and the XFL, where she was voted as "Favorite Cheerleader" by XFL fans. Furthermore Carlson's beauty is surpassed by her wit and intelligence. with a bachelor's of Science in Communications for the University of Portland already under her belt, she also worked towards obtaining her MBA.
In September 2007, Krissy joined the ranks on the Briefcase Models on the NBC Game Show Deal or No Deal which returned to the airwaves for it's third season. She stood beside Briefcase #16 (replacing Kasie Head) for most of the season and then switched roles as she went from being a Briefcase Model to a Banker model. Although she remained with the program until it's end May 2009, Krissy did go back to opening briefcases during the show's fourth and final season on NBC but it was most likely just one or two episodes where she stood beside briefcase #4. Krissy was also seen during the show's 2008 Christmas special where she removed the markers off of a special gameboard with the names of Santa's reindeers (for bonus cash money) and was also seen ice skating on the stage along with several other briefcase models. On the "Million Dollar Mission" shows, Krissy was seen escorting contestants over to an air-filled chamber where they'd pick a ball concealing the number of $1,000,000 cases they would have.
In addition to her TV fame, Carlson is also very successful in the corporate world. Balancing a full-time corporate career as an account manager for a worldwide communications firm. In her spare time, she enjoys snowboarding, painting, cooking, traveling, and surfing. Krissy describes herself as adventurous, passionate, ambitious and creative.