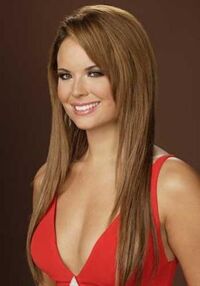 Laura Shields (born September 19, 1984 in Oldham, Greater Manchester, UK) is an English-American Model and former Beauty pageant titleholder. She also spent time in the Game Show world as Briefcase Model #22 during Season two of NBC's Deal or No Deal.
Born in Oldham, Greater Manchester and brought up in neighbouring Rochdale, to a Sri Lankan mother and an English father. Before the age of fifteen, Laura was signed to the Elite Modeling Agency but was no longer a signed model at the agency. She then became Miss UK International and represented the UK in Miss International 2004, placing in the top 10, and was the 3rd runner up in Miss Europe 2005.
In 2006, Laura came to America, hoping to further her career in modeling. In September, she landed a gig as one of the Briefcase models on the NBC Game Show Deal or No Deal, as the show returned to the airwaves for it's second season, standing beside Briefcase #22, replacing Donna Feldman.
Shields only stayed with Deal or No Deal for that one season as Briefcase #22 found not one, but TWO owners for the third season, first with newcomer Lianna Grethel for the first half of season three and then Crystal Monte, (who previously appeared in the role of the Banker Model) for the second half of season three and all through season four.
Shields was also listed in Stuff magazine's 101 sexiest women online in 2005 and has graced the covers of numerous magazines. Laura has ended her modeling career to concentrate on school, earning a masters degree in chemical engineering from Leeds University. She is a member of the high-IQ society Mensa.