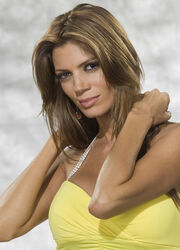 Lianna Grethel
(born in Hartford, Connecticut) is an American-Colombian Model, aspiring actress, and TV Host. She has also spent time in the Game Show world as a Briefcase Model on the NBC Game Show
Deal or No Deal
.
Born in Hartford, Connecticut but soon moved to Cali, Colombia. It comes as no surprise that Lianna Grethel had that show biz blood flowing through her veins. Her mother, Consuelo Portuondo, was one of the most successful Colombian models of all-time time. Lianna grandfather, Enrique Portuondo, was a well-known director and television host in Habana, Cuba.
Throughout her childhood, Lianna participated in every theatrical and musical production she came across. But it wasn't until she was 16 years old that she had her first national television ad campaign. Throughout her teenage years she continued in runway shows, photography modeling and television.
After taking the Latin entertainment world by storm, Grethel has crossed over into the American markets, relocating to the US to further pursue her acting and modeling career. Lianna was then signed to the prestigious William Morris Agency. She also became the image for renowned brands such as: JC Penny, McDonalds, Cingular, Radio Shack and others. She soon became the voice of McDonalds, Coca Cola, Jack in the Box and Burger King.
Lianna then landed a weekly TV gig. She joined the NBC Game Show Deal or No Deal as one of it's newest Briefcase Models at the beginning of it's third season, standing beside Briefcase #22, replacing Laura Shields. Her stay in the Game Show world was a short one as she departed from Deal or No Deal in the middle of season three and was replaced by Crystal Monte as she wanted to move on to other TV acting and hosting gigs.
Lianna was the one and only Colombian model on the show. She did however returned sometime later during season three as a substitute Briefcase Model, holding Briefcase #23 for three episodes while Aubrie Lemon (who holds Briefcase #23 regularly) substituted at Briefcase #6 for Megan Abrigo.
Not leaving her latin roots behind, Lianna simultaneously hosts Alarm TV and channel 62 Daily News, both Liberman Broadcasting Productions. She has undoubtedly proven herself as an actress, model and host and hopes to continue breaking into the American entertainment world. Recently, she has become involved with charities and enjoys speaking and educating about the on-going political issues in her native homeland.