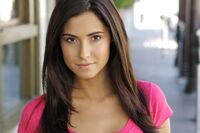 Lindsay Schoneweis (born October 15, 1986 in Lincoln, Nebraska) is an American Model and film and television actress. To Game Show audiences, she is best known as Briefcase Model #4 for two seasons of the NBC Game Show Deal or No Deal.
Grew up on a ranch in Lincoln, Nebraska. For one year of her life, Lindsay Schoneweis was actually raised in a barn where her dad built a temporary apartment for her family while their house was being built.
In High School, she was on the dance team and also ran track where she ran hurdles and relays. But more importantly, Lindsay was the Nebraska state champion in barrel racing, a rodeo event where riders race horses around three barrels. She won her first trophy at the tiny age of eight and from then on, Schoneweis became a full-time cowgirl.
Aside from being a rodeo cowgirl, Lindsay also wanted explore to world of modeling and acting. One of her first TV gigs was playing the role of a fantasy girl on an episode of the CBS sitcom How I Met Your Mother titled "The Purple Giraffe".
She landed the gig of one of the 26 Briefcase Models on the newly NBC TV Game Show Deal or No Deal. First premiere for a week in late December 2005 and then returning to the airwaves in February 2006 as a primetime regular. Lindsay Schoneweiss stood beside Briefcase #4 for the first and second seasons. She departed from the show after the second season as her spot was permanent taken over by fellow Briefcase Model Keltie Martin.