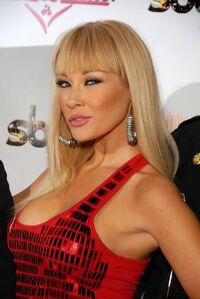 Lisa Gleave (born on November 11, 1976 in Queensland, Australia) is an Australian-American model, actress, & TV personality. To TV Game Show audiences, she is best known for her stints as a Barker's Beauty on The Price is Right (from 2002-2003) and as Briefcase Model #3 on Deal or No Deal (for it's entire run: 2005-09).
Born in Queensland, Australia and in 2000 Lisa moved to America to pursue her dreams in acting, modeling, and fashion.
Beginning in late October 2002 all the way to June 2003 (plus one episode in September), Lisa appeared as a rotating Barker's Beauty on The Price is Right.
In December 2005, she and Claudia Jordan, who was a regular model on The Price is Right from 2001 to 2003, reunited as they were two of 26 Briefcase Models on the newly NBC Game Show Deal or No Deal with the first week of shows aired during the week of December 19-23, 2005. Lisa stood beside Briefcase #3 for the program's entire run while Claudia first stood beside Briefcase #9 during the Premiere Week before moving down to her permanent residence, Briefcase #1 until the show's end in May 2009. Lisa held Briefcase #3 for four seasons. In season five, she will be replaced by Katie Luddy.
Gleave and Jordan, along with fellow Briefcase Models Patricia Kara, Megan Abrigo, and Leyla Milani made guest appearances at the 2009 Game Show Awards (hosted by Howie Mandel) representing Deal or No Deal as they won the award for Favorite Game Show Models.
Lisa and Claudia, along with fellow Briefcase Models Keltie Martin and Ursula Mayes are also featured on the Deal or No Deal Slot Machine.
Gleave has also landed roles on various TV shows which include The Young and the Restless, CSI: NY, Reno 911! , and Bikini Destinations while a few movie credits include 2006's Accepted, 2009's Deep in The Valley, and 2010's Date Night.
Lisa is also the spokesperson for the travel website IC Places.
Lisa on "The Price is Right"
Edit
Lisa on "Deal or No Deal
Edit