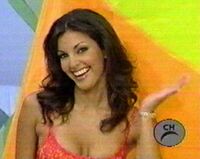 Sonia Vera (born December 12, 1979 in Margarita, Venezuela) is a Venezuelan-American Model. She spent time in the Game Show world as a Barker's Beauty on The Price is Right and as a Briefcase Model during season one of the NBC Game Show Deal or No Deal.
Born in Venezuela on the tiny Island of Margarita, but was raised in San Francisco, California.
Sonia Vera has modeled for most of her life. In the early 1990s, Sonia was named Miss Nueva Esparta and competed for, but didn't win the title of Miss Venezuela.
She landed a role in the 2002 film The Scorpion King as a harlot. In 2004, Vera entered the Game Show arena as she did brief stint as a Barker's Beauty on The Price is Right, taping only five episodes. Two years later, she returned to the Game Show arena after landing a gig as one of the 26 Briefcase Models on the NBC Game Show Deal or No Deal (first airing in a week in late December 2005) as the show returned to the airwaves as a primetime regular in February 2006.
Sonia only spent one season as a Briefcase Model on Deal or No Deal, standing beside Briefcase #25 and was replaced by Hayley Marie Norman for the remaining three seasons.
Vera has also graced on the cover of Maxim magazine and was featured in their 2008 calendar. Other magazine appearances which include Front (UK), LOFT, Que (Germany), and FHM. She also made Maxim's 25 Hottest Latinas of the Year.
Sonia has also been as billboard model for Coors, Sky Vodka and ads for Bacardi, Keystone, Treasure Island Hotel and Casino, Paris Hotel and Casino, Leg Avenue and swimwear catalogues.
In 2007, she decided to take a break from modeling to build her own company, Sonia Vera Swimwear. Vera references Raquel Welch and Sophia Loren in her designs. Vera said, that she wants to build a brand that is "as timeless as the beauties who inspire it".