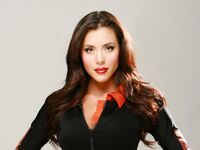 Ursula Mayes (born August 9, 1979 in Seoul, South Korea) is a Korean-American Model and aspiring actress. She is best known to TV Game Show audiences as Briefcase #5 on the NBC Game Show Deal or No Deal.
Born on a military base in Seoul, South Korea. Ursula's exotic looks come from a Korean mother and German/Native American father. Growing up as an Army brat has led her to many places. Having traveled so much as a child carries over into her current life.
Landing a spread in Maxim magazine, and shortly after, a spokes model campaign with a global events company, Mayes embarked on a 20-city nationwide tour. Currently, she is a global spokes model with travels extending to Asia, Europe, Guam and Brazil. Ursula also hosted for APG Media, interviewing various celebrities, musicians, athletes and corporate sponsors.
She has landed many magazine covers within a short period of time, making her one of L.A.'s and the nation's top fresh faces on the rise. Mayes has been featured in magazines such as Maxim, Stuff, and Muscle & Fitness. She also has international appeal and is highly in demand in countries such as Korea, Japan, Europe and South America.
In February 2006, Ursula auditioned for and landed a spot as one of the 26 Briefcase Models on the NBC TV Game Show Deal or No Deal, first premiering for one week in late December 2005. For the Season one premiere episode only, Ursula, one of several newbies to join, stood beside Briefcase #9 and from the next episode she moved Briefcase #5 as her permanent residence all the way to the show's end in May 2009. In season five, she will be replaced by Lani Baker.
Ursula is also featured on the Deal or No Deal slot machine alongside fellow Briefcase Models Lisa Gleave, Claudia Jordan, and Keltie Martin.
Her fan base worldwide led her to develop her own line of merchandise such as calendars, DVD's, posters, and a fan website. Mayes has played the lead role and cover model in the video game by THQ called Juiced 2: Hot Import Nights which was released for the Xbox 360, PS2, PS3, PSP, Nintendo DS and PC gaming consoles. Also, the video game had a special DVD featuring Ursula herself, just for the fans.
Ursula's fan base is continually growing worldwide as she can now be seen in FMH Australia, Esquire Turkey, and many more to come. Aside from all of her modeling credentials, humanitarian work, and acting gigs, she also enjoys embarking on adventures that involve creative self-expression, traveling the world, helping others and learning.